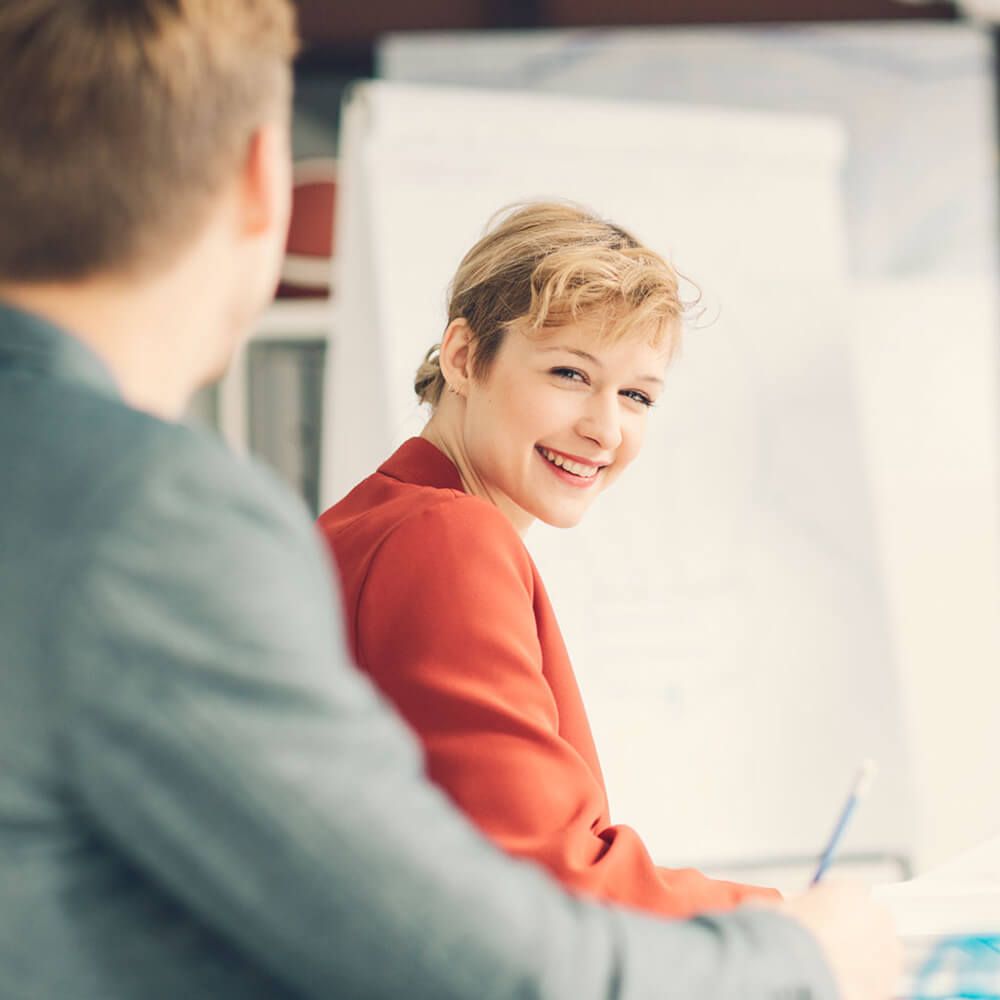 Business English course, German course and much more.
Individual training concept for each company
inlingua offers a range of options for companies, such as individual language courses or e-learning solutions
Language courses for employees at inlingua
Languages are an essential part of everyday business. A well-trained team can significantly increase the success of your business. Corporate language courses offer employees the opportunity to improve their language skills so that they are able to work more efficiently with international clients or colleagues. Thus, by using professional language training from inlingua, you can improve your company and your business on both a regional and international level.
inlingua creates an individual language course for your company and the level of your employees. In this way, we ensure that all components are tailored to your needs.
Together with you, we analyze the circumstances and your needs. Your company culture, your strategic personnel planning and your internal resources provide the framework.
---
The 10 characteristics of inlingua language training for companies
1. all languages & levels
inlingua offers language courses for companies in all languages and levels. The language courses are individually adapted to the communication tasks.
2. placement test for knowledge assessment
At inlingua, your employees take our placement test to determine their level of proficiency in a particular language and match it to your language goals.
3. goal-oriented language training concept
A needs analysis is carried out and the results are used to draw up an individual, goal-oriented language training concept.
4. practical language courses
Our language courses are specially designed to meet the needs of the business world. They are constantly being developed and are very practice-oriented.
5. language courses for every need
Individual training, crash course or company group, in-house at your business premises or at the inlingua Center, at home or abroad at inlingua you will find a suitable solution for your company and your employees.
6. development of individual language courses
For specific tasks, we develop specific language courses adapted to your company's circumstances.
7. on-the-job training
Our language trainers accompany employees on-the-job if desired and provide situation-specific feedback. This ensures a more effective learning curve for your employees.
8. personal support
As a further service, in addition to the language trainers, you will always receive additional personal support. Here you can ask all questions that are important outside the language course.
9.overview of your learning progress
The joint success is measurable. Through regular feedback, documentation of training progress and internationally recognized tests.
10.Motivating language course design
inlingua language courses are designed so that your employees enjoy learning the language. This makes it easier to achieve language goals. Targeted follow-up packages motivate for the next level of competence.
---
Would you like to test your language skills?
Fast. Simple. Reliable.
With inlingua's placement test, you can easily and conveniently test your language skills online.
This gives you a reliable starting point to find the right language course for your level.
---
Frequently asked questions about corporate language courses
The WeGebAU program (further training for low-skilled and employed older workers in companies) is aimed at employees who do not have a vocational qualification or have not been working in their learned profession or unskilled in a profession for four years, as well as at employees who are at least 45 years old.
The Qualification Opportunities Act expanded this program of the Federal Employment Agency. With this law, companies with more than 250 employees also have the opportunity to provide employees with subsidized further training in the form of upgrading or adaptation training in order to maintain their jobs.
The basic requirements for this program are an existing employment relationship that extends beyond the end of the training measure and the implementation of the qualification measure by an external, certified training provider such as inlingua Sprachencenter.
You can download a summary of the possibilities here.
Qualification measures, such as language courses, are eligible for funding from the Federal Employment Agency under the above-mentioned conditions. The aim is to improve the qualifications of employed workers and to reduce bottlenecks in shortage occupations.
The funding is provided in the form of a subsidy of up to 100% of the costs of further training and a reduction in the employer's liability for any time lost by the employee of up to 75% of the employee's salary.
For more information on the subsidy, please visit https://www.bmas.de.
offered by an external, certified training provider, such as the inlingua Centers
the further training must include future-oriented qualifications and comprise at least 120 training hours
comparable further training must have taken place at least four years previously
We will be happy to support you in applying for funding and to put you in touch with the Employer Service, which will work with you to develop a funding strategy.
You can obtain all further information at https://www.bmas.de/
In a letter dated July 04, 2017, the German Federal Ministry of Finance clarified that expenses for language courses for the employer can be declared as training costs. Thus, the expenses for language courses for companies are tax-free.
The prerequisite for the tax benefit is that the language course is conducted in the very predominant business interest of the employer.
However, the personal tax advisor should be consulted for the specific individual case.
lokal - regional - national
Each inlingua center is an independent company that knows the local economic conditions and can respond individually to your goals. You always have a personal contact here who will determine your needs and coordinate the measures.
Companies operating regionally and nationally benefit from the networking of all inlingua training centers. You can agree on standardized programs and services with inlingua within a framework agreement. All local centers then commit themselves to the key points anchored there. This ensures that all employees always receive the same training quality.